LAKSHMIKANTHAN MURDER CASE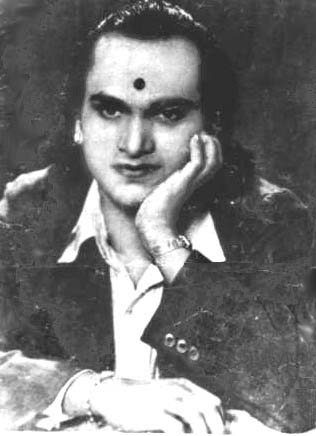 When MKT was flying very high in fame in drama, cinema and concerts, fate intervened in the form of Lakshmikanthan. Lakshmikanthan, a notorious criminal and who had served seven years imprisonment in the Andamans for crimes he committed in 1932, edited a yellow magazine called 'Cinema Thoothu', which was ordered to be closed down, and at the time of his death a yellow magazine called 'Hindu Nesan'. Lakshmikanthan's target was not only the small fry in the society but also the movie people, business magnates, prosperous lawyers, doctors, famed musicians, landlords, zamindars, Rajahs, press barons, religious heads, politicians etc. He wrote salacious and scandelous sex stories about them, relying on gossip and hearsay. Most of what he wrote were unauthenticated and written in a filthy language. Being afraid of ill fame, some of those on whom Lakshmikantan wrote, tried to silence him with hush money. Encouraged by this sort of income he continued to write all sorts of nonsense about them and blackmailed them for hush money. With the result, Lakshmikanthan had numerous enemies from all walks of life.

On November 8th 1944, he was attacked by two men with a knife in Purasawalkam, Madras. He was admitted in the General Hospital, Madras as an outpatient. The wound was not serious enough. During his treatment, it was reported that he wanted to expose the murderers involved in the Boat Mail murder (In those days a train named Boat mail used to run between Madras and Dhanushkoti station which is not in existence now). A rich banker from Devakottai was murdered in the moving train between Chingleput and Madras. But Lakshmikanthan was stabbed and admitted in the hospital before he could do that.
Early next morning i.e. on 9th Nov 1944, Lakshmikanthan died in the hospital. The police arrested eight persons as the accused in the murder. Among them were MKT and N.S.Krishnan. This came as a rude shock to their fans and the cine world.

After usual committal proceedings before the Presidency Magistrate, the case came up for hearing at the Madras High court before Justice Vera Mockett. A team of brilliant lawyers including Mr.V.T.Rangasamy Iyengar, Mr. Rajagopalachariar, Mr.Braddel, Mr.B.T.Sundararajan, Mr. Govind Swaminathan, Mr.Srinivasagopal and Mr.K.M.Munshi argued the case for the accused. After a prolonged trial, the Jury, much to the shock of many, found MKT and NSK guilty alongwith four others.

Appeals were heard by a Bench of the High Court consisting of Sir Lionel Leach, Chief Justice of Madras, and Justice K.P. Lakshmana Rao. The appeallants were represented by some of the leading members of the Bar. However, the appeals were dismissed.

Among the accused, MKT and NSK filed an appeal in the Privy Council, London, which was then the highest court of appeal. The internationally famous British Barrister, D.N.Pritt appeared for them. After hearing the submissions, Privy Council referred the case back to the Madras High Court for a fresh appraisal.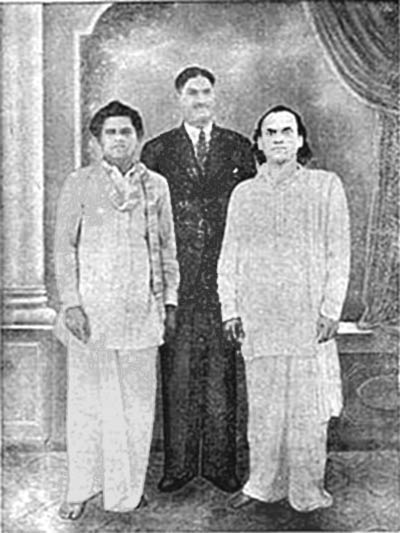 WITH N S K AND ETHIRAJ
The appeal came up before a Division Bench consisting of Mr. Justice Happell and Mr. Justice Shahabuddin (who migrated to Pakistan in 1947 and retired as Chief Justice of the Pakistan Supreme Court). Mr V.L.Ethiraj appeared for MKT and NSK and submitted that the trial Judge had not properly directed the Jury and the evidence of doubtful nature was not properly assessed. Mr.Ethiraj convinced the Judges that the evidence given by witnesses against MKT and NSK rested on very shaky grounds to sustain the conviction. There were a lot of inconsistencies in their statements and the case against MKT and NSK had many loopholes. The Judges accepted Mr.Ethiraj's submissions and acquitted MKT and NSK. The judgment was given on 25th April 1947 and MKT and NSK stepped out of prison the same day.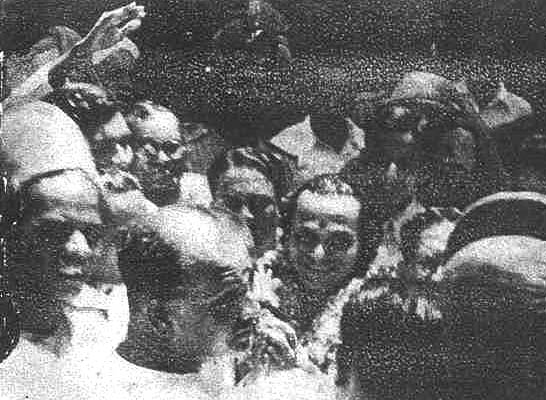 JUST OUT OF PRISON
When the man was in jail, his movie 'Haridas' had created history in Broadway cinema by running through three deepavalis. 'Manmatha leelai' and other songs were reverberating in the air all over the place. 'You can cage the singer but not the song' (a famous quote by Harry Belafonte, also a famous singer-actor and a civil rights activist and co-incidentally was also born on the 1st of March).
The other accused were also released due to the unsustainability of the evidence against them. But MKT, NSK and four others were released only after twenty-seven months' imprisonment. Experts and even laymen felt that the truth about the real killers of Lakshmikanthan never came to light and MKT, NSK and others were unfortunate victims for a crime committed by some other big shots in the Presidency.

But the real killers were never pinned down and the truth lies buried somewhere to this day. Indian legal history will record this case as one of the most tragic miscarriages of justice. It ruined the life and career of an astonishingly gifted musician. Bhagavathar never regained what he lost. By the time he was released, Tamil cinema had begun to undergo a rapid change from historical and mythological films to social films, a scenario in which MKT did not fit in as easily as he did in the old model.
RELEASE AND AFTER


MKT Bhagavathar was a shattered man after the gruelling experience in prison. The trechery of destiny had robbed him of the happiness and self-confidence he had before. Over a period of time, he turned more inward and became very philosophical in his outlook. He realised by hard experience the inherent danger in the 'ugly thing called popularity'.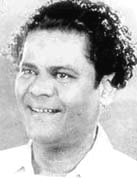 N S KRISHNAN
Immediately after his release from prison, MKT went straight to the Vadapalani Temple, Madras and offered his prayers. Although MKT and NSK were very good friends their views were diagonally opposite to each other. MKT was a staunch believer in God and fate. But NSK was attracted towards the Self Respect movement promoted by the Dravida Kazhagam. MKT took no part in the Self Respect movement and never changed his views to suit the changing trend in the society.

MKT returned to Trichy amidst a thunderous welcome. Many producers including the most successful of them were waiting for his arrival at Trichy with fabulous amounts in their purses to book for pictures. MKT refused their offers. He was deeply hurt by their crass commercial attitude in asking for the advance money for the incomplete films to be returned at the time when he was going through dire circumstances in prison, which created a financial crisis for him. It is said that they had also openly stated that escaping from a life sentence or from the exile to the Andaman jail would be next to impossibility for MKT and NSK. So after refusing the offers of some of the best names among producers, MKT decided to produce his own film, Rajamukthi.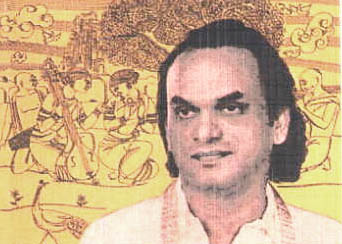 After his release MKT wanted to give as many classical music concerts as possible. But except Tamil Isai Sangam, he did not receive much encouragement from the other sabhas.
MKT did produce Rajamukthi and Puduvazhvu and acted in Amarakavi, Syamala and Sivakami (few scenes only). Although the songs in these films attracted the masses, the films had only an average run and failed in the box office collection, one of the factors being the change in the trend of films. (For information about each of these five films, please visit the
Filmography-Page 2
section)
ADHERENCE TO PRINCIPLES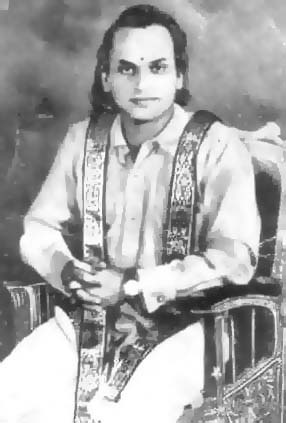 Athiestic propoganda and social reform themes produced by a particular group had by then assumed significance and the old devotional elements were slowly fading away in films. MKT could not fit into the prevailing trend. MKT's faith in God, his gurus and saints prevented him from compromised on principles for the sake of making money. Although he lost money heavily due to the Lakshmikanthan murder case, he refused to accept the offer of Rs. One Lakh to act in the picture titled 'Sorgavasal' because of its athiestic theme.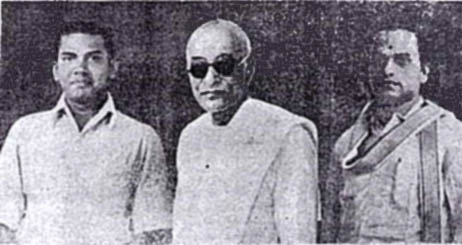 WITH CHINNA ANNAMALAI AND RAJAJI
MKT had acquaintance with well known politicians such as Rajaji, Kamaraj, Annadurai, Chinna Annamalai and others. But he never used it for his personal glory. Kamaraj asked him to contest in one of the elections in a congress ticket. But he refused it. He knew that he belonged to the field of performing arts and he was content with it. He never entertained any thoughts of making a foray into politics, which was foreign to his orientation, aptitude and temperament.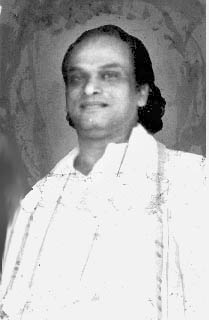 When Ambikapathi (starring Sivaji Ganesan) was produced in 1957, MKT was offered the role of Kambar in that film. He was offered a remuneration which was higher by Rs. 10,000/- than what was offered to Sivaji Ganesan. But he politely turned down the offer. Having acted in the role of Ambikapathi, which had secured a lasting place in the hearts of his fans, he was unwilling to play a different role in the same story.
MKT'S BENEVOLENCE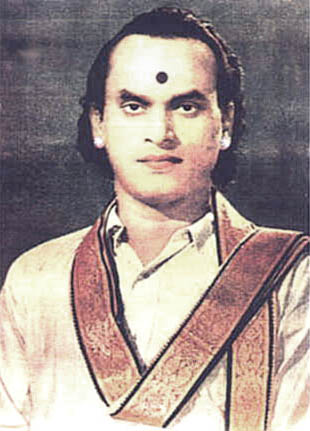 IN THE LATE 1940'S
During World War II the British government requested him to collect money for Red Cross. He immediately agreed and collected a fabulous sum of money by staging plays and giving concerts. The British Government, as a mark of gratitude, offered to honour him with the title of Dewan Bahadur, but he refused to accept it. He was then offered the entire locality of Tiruvarambur village near Trichy (where the BHEL now stands) he refused to accept it either. He stated that he had collected the money only on humanitarian grounds and not for reward of any kind. It is said that Mr.Sathyamurthy, the great congress leader, ignorant of the real intentions of MKT remarked that MKT was helping the British. But subsequently he changed his views when he came to know of MKT's unblemished generosity. When Mr. Sathyamurthy attended the Golden Jubilee function of 'Thiruneelakantar' he appreciated MKT's music and heartily praised his benevolence.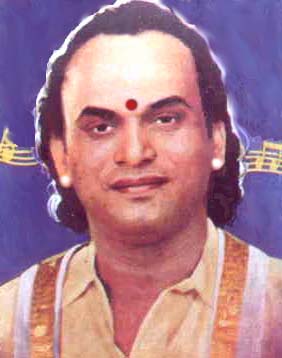 Suratha,who wrote the songs in Amarakavi, was struggling hard to make an entry into the film world and establish himself as a lyricist. He approached MKT at his Trichy residence and requested him to help him get an opportunity to write songs in films. MKT asked Suratha to have lunch with him first. MKT used to take food in a gold plate which weighed 110 sovereigns. The cook in MKT's house placed the gold plate to MKT and a banana leaf to Suratha. But MKT placed the gold plate in front of Suratha and pulled the banana leaf towards his side and asked Suratha to take food from the gold plate. Later, MKT gifted the plate to Suratha as a token of his admiration of Suratha's ability to compose songs. MKT had a couple of gold plates weighing 110 sovereigns. He gave the other one to V.L.Ethiraj immediately after his release from prison. Ethiraj obliged his request and used that plate to take food till his last breath. The value of the plates given to Suratha and Ethiraj was Rs 15,000 each in those days. The present day value of each plate will run to several lakhs. MKT also helped Suratha in getting a chance to write songs for the film Amarakavi and paved way for Suratha's entry in the film field.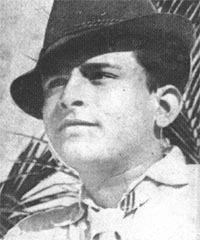 T R MAHALINGAM
T.R.Mahalingam celeberated the 'school going ceremony' of his son Sukumar at his house 'Sukumara Bhavanam' at Royapettah, Madras. MKT gave a classical music concert in that event. After the concert, T.R.Mahalingam presented a silver plate and Rs 1,000 to MKT. MKT added one rupee to the said amount and gifted the amount to Sukumar. He also gifted the young boy the silver plate and left the house much to the surprise of every one present there. Sukumar's son, who owns a photo studio at Mylapore today, recollected that his father would often mention this episode and added that MKT gifted him, in addition to the above, a gold pen and wished him good luck in studies!
On another occasion, after his concert for fund collection for a school building at Purasawalkam, MKT was offered remuneration for the concert. He politely refused to accept it stating that he would not accept money from educational institutions. The school authorities wanted to honour him by presenting a silver plate. MKT turned down that as well and said that he had seen tons and tons of silver and gold in his life but lost everything when he was the 'guest of the government authorities' for nearly thirty months and has since then lost interest in gold and silver.
Kapali Talkies, which stood until recently at Mandaveli, was owned by Sambanda Mudaliar who lived in New Street, Mylapore. The cinema was opened by MKT in the year 1939. On the day of the opening ceremony, the proprietor presented him with a tiny silver hammer as memento. Some people in the audience commented that by presenting the silver hammer to MKT, the proprietor had insulted him by indirectly referring to his caste, as he was a goldsmith who made jewellery by using the hammer as a tool. But MKT was not offended by it and took no notice of the remarks that referred to his caste.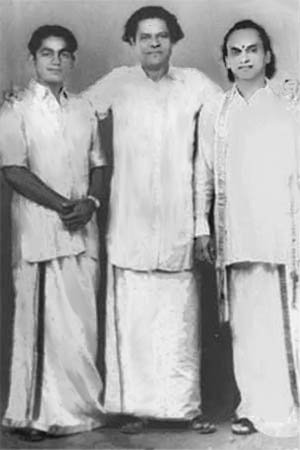 WITH NSK AND HARIRAM SETH
MKT was a very kind hearted person and had helped many people without personal advertisement. He refused to take money for concerts in temples and educational institutions.

Nor did he die as a destitute as it is often made out to be. Hariram Seth (manufacturer of Chokkalal Beedi) was an ardent fan who spared no efforts to see that MKT led a comfortable life till his last breath.
THE LAST DAYS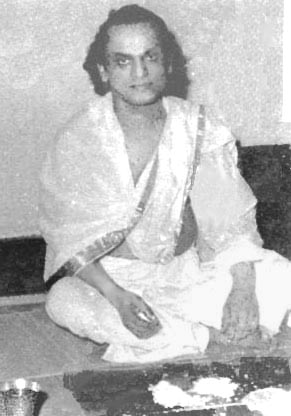 MKT turned more towards temples and developed a philosophical attitude towards the end of his life. He undertook journeys to many pilgrimage centres. He lost interest in wealth and popularity. His lack of affluence was to a large extent his own making but not many of them understood this. He refused offers to act in films which had athiestic themes. It is said that MKT has himself stated once 'Ennai pol vaazhnthavarum illai, thaazhnthavarum illai'.
After 1955, he visited many temples in South India including Dharmapura Adheenam and other places such as Pandharpur etc., with one of his best friends, Mr. A. Nagarathnam, a school teacher from Erode and who also learnt carnatic music from Alathur Brothers alongwith MKT. He visited Ramakrishna Tapovanam near Trichy and stayed there for well over a month. He visited Tiruvannamalai and another place called Tirumoolaranyam near Tiruvannamalai and stayed in an ashram for a few days. He used to do 'Go puja' (cow worship) daily in the morning till the end of his stay at Tirumoolaranyam and used to sing songs in praise of the Almighty. He also visited Puttaparthy to see Sathya Sai Baba.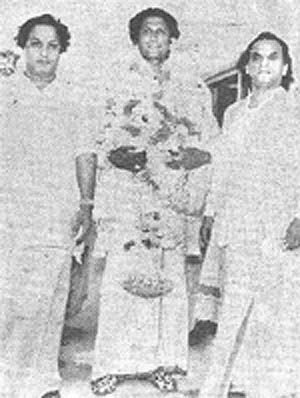 WITH MGR AND T.C.SUNDARAMURTHY, A DANCE ARTISTE, AT THE TIME OF THEIR VISIT TO THE LATTER'S HOUSE
When his eyesight had begun to fail, he stayed at Samayapuram for 45 days and prayed to Goddess Durga. He used to sing there every evening and one song in particular moved the hearts of the visitors to the temple, 'Kann paaramma Mariamma'.

MKT used to visit Samayapuram quite often and invariably his stay in the temple was for a minimum of one month and more. S.S.Rajendran who was then holding a post in the Thennindiya Nadigar Sangam met MKT in this temple once and requested him to come over to Madras with him for treatment for his eyes. He also said that he would arrange for a Swarnaabishekam (Gold abhisekham) to MKT and organise a grand function by all artistes to honour MKT for his services to the film world. But MKT politely refused to accept this fine gesture by SSR and informed him that he had great faith in Goddess Mariamma and that she would take care of his health. SSR left the scene admiring MKT's faith in God and his refusal to accept any help from others even at the time of declining health, wealth and fame. MKT also suffered from diabetes and used take the insulin injection himself in the middle of concerts in the last years of his life.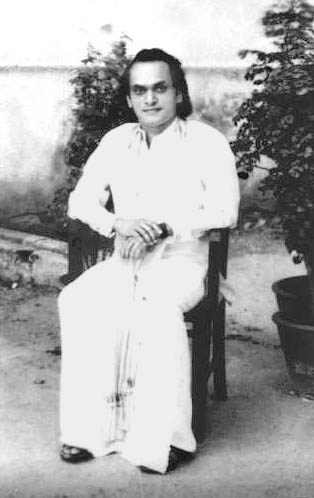 Although he never performed in any concert hall after 1954 he gave concerts in many temples, exhibitions, Kandasashti festival at Madras, Ramanavami festival at Bangalore, Mayavaram Vedanayakam pillai's and Sankaradas swamigal's birthday functions at Trichy and marriage functions of his very close friends without taking any amount as his fees. He used to get the fees only for his accompanists.
During the closing days of his life, Bagavathar suffered from high blood pressure and acute diabetes. Only ten days before his demise, he gave a concert at Pollachi. Those who heard that concert still say that it was a very good one. At the end of the concert, a person offered him some Ayurvedic tonic to cure the diabetis. But instead of providing relief, the tonic resulted aggravated the condition so much so that he had to be taken to Madras to be admitted immediately in the General Hospital.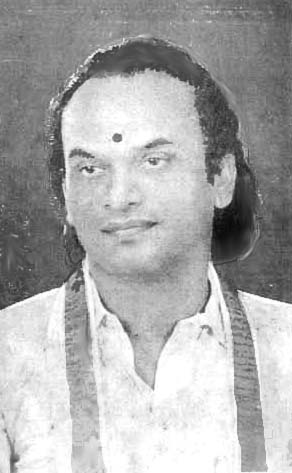 When he reached the Pollachi railway station to proceed to Madras, a strange occurance took place. All the lights in the station went off. His friends told him that this was a bad omen. But MKT replied that fate always won the race and by staying at Pollachi it would not be possible for him to prevent death if that was the destiny. He proceeded to Madras as planned.
On October 22, 1959, he was admitted in the General Hospital, Madras. He took treatment for a week but his end was near. The legendary superstar of Tamil cinema passed away peacefully on 1.11.1959 at about 6.20 p.m. His body was taken to Trichy and was burried in Sangiliyandapuram, a small village in the outskirts of Trichy. His funeral procession started in the cantonment from his house at about 4.30 p.m. and took about 4 hours to reach the burial ground due to the gathering of an overwhelming crowd.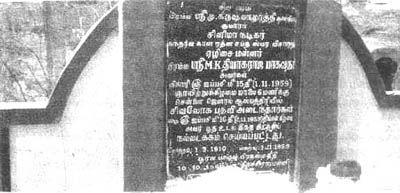 MKT'S SAMADHI AT SANGILIYANDAPURAM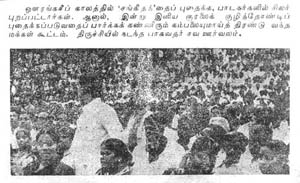 HIS FINAL PROCESSION FROM TRICHY TO SANGILIYANDAPURAM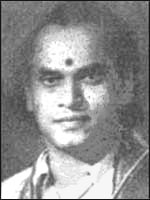 By the Lakshmikanthan Murder Case and decline from stardom in subsequent years, he suffered mental agony. Sorrow came in great waves in his life. He died young and his golden voice died with him never to return to the world. Perhaps his life reminds everyone that noboby, however gentle and harmless he might be, is allowed by destiny to taste only happiness in life, and fate cannot endure to see a man only in one phase of life.
When MKT passed away, Seergazhi Govindarajan sang two songs, each in honour of MKT and NSK (who had passed away two years earlier). Both the songs were released as one gramophone record. His song on MKT, 'Ezhisai Mannaa, engu nee sendraayo' is a very touching piece. The words aptly describe MKT's personality and his contribution to the field of fine arts. 'Kann izhanthaal enna, ganniyam athai un kaalam ulla varai kadai pidithaai' (Does it matter if you lost your eye sight?, you kept your dignity till the end of your time) are words that pay worthy tribute to MKT's sterling good character.
CONCLUSION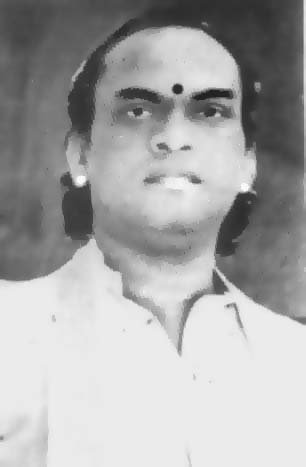 With his death, the multisphered personality of MKT was a lost to music and cinema lovers. In stage drama, he rivalled S.G. Kittappa himself. In cinema, he dominated the field over many doyens of classical music who failed to make a mark in films. As a concert musician, he did not get opportunities in the big sabhas to showcase his talent and as a carnatic musician is sadly forgotten today.
It is unfortunate that he is not known so much as a carnatic vidwan as a film actor, despite the vast number of concerts he had given. It is equally unfortunate that MKT never gave classical kritis on gramophone records which would have gone a long way today in provoking enquiry about his skills as a concert musician.


The charmingly gentle personality and the exceptionally sweet and honeydew voice will certainly linger in the minds of his fans for many generations. The legend MKT continues to live in the hearts of many who mourn his death silently. With MKT passed away a glorious personality and an extraordinary life. Would there be another like him?